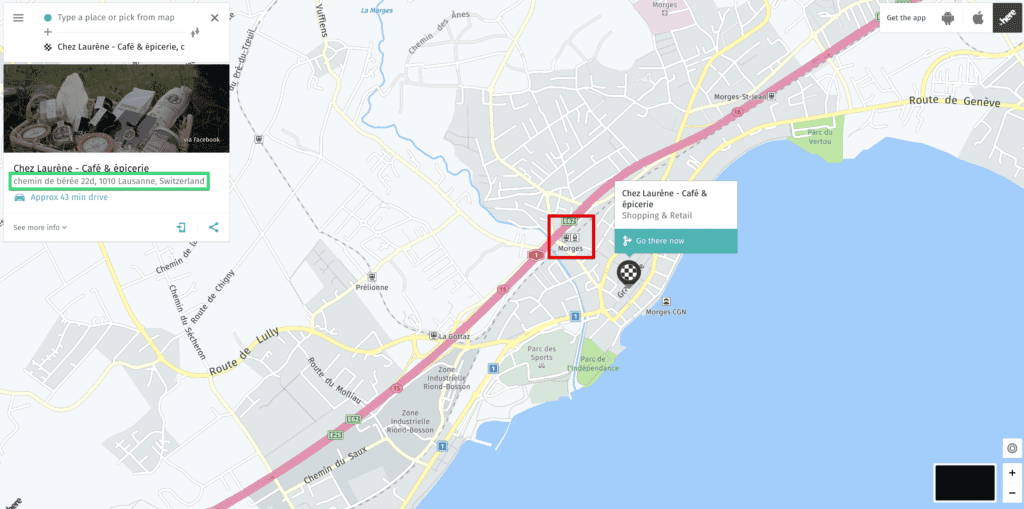 HERE Technologies,… this company name sounds maybe nothing to you, but behind this all caps NAME is the map provider for Facebook.
Yes, some new guys behind the cartography and direction system for the facebook (business page).
Maps has always been a great and useful tool, built to find where we are from other people, from a road or from an other town. In 2018 maps and data are some basic tool for the user and other people who need to find things as restaurant, grocery store, dentist or the best road to the holidays.
So when you have a business, maps are useful to promote your store or office, everyone agreeds that maps are essential to everyone who searches to drive clients to their store but what happen when the maps are wrong ?
What if you use a tool as facebook to communicate with your audience, promote your store, promote some event and the direction to your store is wrong, not wrong in the sense the store is just behind the building, but in the wrong town, in the wrong place, in the wrong street ?
It can become a huge problem when you know people click everyday in the « Get the direction » Button and arrive in an other town in front of….  nothing because this address doesn't exist in this town.
This is what is happening to me. We changed the shop location for Chez Laurène – Grocery store in July and updated the facebook page with the new address. It took sometime to figure out the map is not refreshing, we thought it must be a kind of cache, the new address is correct but the map still shows the last address… We changed all other infos from google business to the website contact page.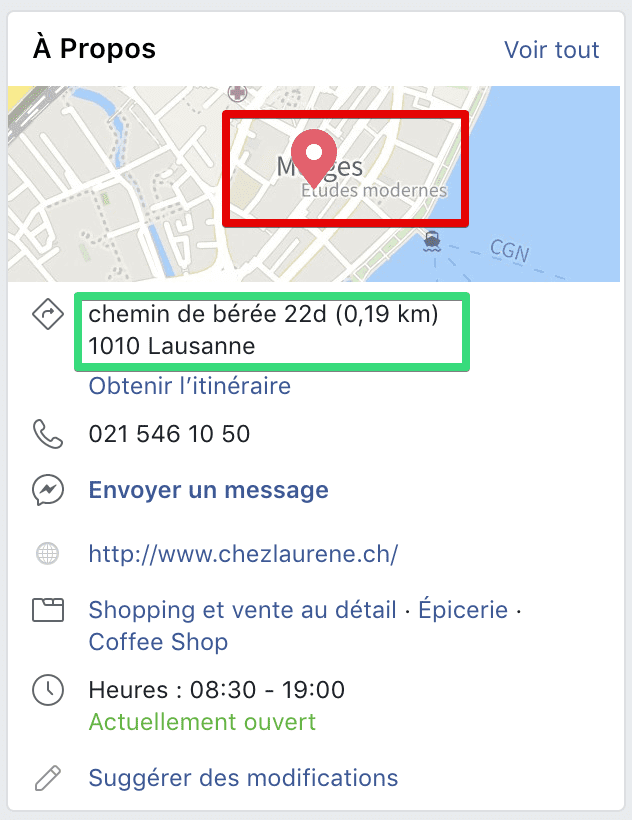 Facebook,… . . .
still the wrong place after sometime. I tried to contact facebook, whoever has already tried to contact facebook knows how hard it is to talk with someone,…  lucky me I was in contact with the marketing and ads support for some Facebook ads, so I plan a chat with a very nice woman. Although it was not her department she tried to help me, she contacted her colleagues and after some weeks we realized facebook is not involved in this bug and they redirected me to HERE Technologies, their map provider.
I search on the HERE Technologies website where I can contact them, find a form and explain our problem, it was in the beginning of September…
Here are the details of the problem I'm sending them:
The business name is:
Chez Laurène – Café & épicerie
The facebook page:
> https://www.facebook.com/chezlaurene
The website with the address:
> https://chezlaurene.ch/ou-me-trouver/
The google map with the correct address:
> https://goo.gl/maps/WYcFfwf9q3m
The Correct address is:
Chez Laurène – Café & épicerie
Chemin de Bérée 22D, 1010 Lausanne
Switzerland
The Problem:
The address on Here is correct but I don't know why the map is wrong and shows a different city.
you can compare the google map and the Here map for that:
Google map (correct):
> https://goo.gl/maps/dNYYXAGk8q72
Here (False):
> https://her.is/2P5v0Nj
Wait wait wait….  after 2 weeks still no answer, I search again in the HERE Technologies website and find some « map creator » tool where I report the bug and try to create a new place.
Still waiting….
On the 3rd of October I reached HERE Technologies on twitter and on their facebook page with the problem, I finally catched their attention and we begin to chat on facebook messenger.
They explain me that I can change on the map creator etc etc,.. explain What I already tried and it did not resolve the issue.
I explain again all the story,… weeks after weeks they told me the dev team are working on it and on the next update the problem will be fixed
after these messages, on the 22nd of October, they asked me to confirm which contact form I used in the first place to contact them.
WTF ?? for what ? we are chatting since October 3rd about this problem so please make a fix !! that's a so easy job ! Change the GPS cord. and that's it!
The 23 of October they wrote me « Our team will make the edit on your behalf and add the missing roads »
HOURRAAA !! the fix will be soon online !!
but on the 8 of November I wrote again to have some news, here is what they answer me:
Yes,… they gave me a link to see the change they manually made, let me write it for you:
https://community.in.here.com/mapcreator/46.537763934836846,6.654400365413437,19,0,0?fbclid=IwAR1kB8UphV-vvXEa8GE_B2kXLmGoVv6YBIH8lm2xp1brlbqxgTaBUQtBvrQ
no, it's not a dream, the link doesn't work !!!
But they still tell me « The new place should be visible in an upcoming map update. » hum hum ,… oh ok sorry
5 December, I write a new message,… The answer is unreal !!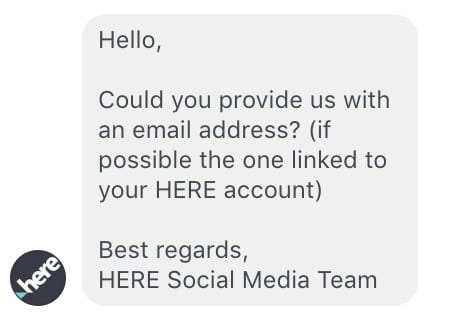 So I 'm in contact with them for 3 months now, the problem is still not fixed and they ask me again for my email linked to the HERE account … !?
At the end this is not vital,… although it's a huge problem for a business.
The real problem here is not only that some people arrive in the wrong town and can't find the store,… because they will find it with google map…
What really scares me is that everyone use some kind of service for their business, life or for fun, everyone become dependent on apps/services for business purpose or leisure and suddenly if a service provide false information on your behalf and when you realize it you can't do anything to fix it, it came be dramatic. You have no protection against this and from the prejudice it may be caused.
it must be easy to report problem or error,… and as you saw in this example it's not easy and takes time to try to fix an error created by a company who is spreading wrong informations about you. And that's not over …
I let you conceive this kind of case in other context… with other informations
Are there any legal steps to force a company to deal with error and false informations they spread ?
PS: this post is in « english » cause I try to catch the greatest number of people